The Course
Photography Glossary. Confused about what all those photo words, phrases and terms mean? Why not check out my Glossary first.

Its a bit of a long read, and you'll probably want to come back to it later, so grab a cuppa and get stuck in!
Which Type Of Digital Camera Should You Buy?If you're thinking about Digital Photography as a hobby, the choices about what type of camera to buy, let alone which model, can be daunting.

In the first article of "The Course" I take a look at the different form factors (or shapes and sizes) that digital cameras come in, discuss their relative merits, and talk about which ones may be best for you.
Essential Digital Camera Accessories.Once you've got your digital camera, that's not the end of the story, kit wise, it's just the beginning.

When you go on photography forums, or read photo magazines, there's a lot of tempting extras, but which accessories do you really need, that'll make a difference to the quality of your images and your ease of work-flow?
Introduction to Tripods. A tripod is probably the most important accessory you can buy for your camera. Tripods let you take tack-sharp images, but if you haven't had a play with one yet, you may think they're a little complicated to set up and use.

In this video I show the Hama Tripod that I carry around all the time, and share a few hints and tips about using it.
Quick Start Guide For Digital Camera Beginners. Digital Camera manuals can be a bit intimidating. No, actually they're very intimidating with all the advanced features that manufacturers cram in to their products.

If you're new to Digital Cameras, but are keen to get out there shooting, this quick video tutorial will get you started in five minutes, so you can start using your new toy for what it's meant for - taking great pics!
Taking Better Photographs: Subject, Composition, and Light! To take our photography further we need to understand and apply the guidelines that other photographers use to make dynamic images.

I have to warn you that this is a long post, but in my defence I didn't want to split this most important subject up, so grab a coffee and get stuck in!
Simplifying Composition by Learning The Rules.

Another article on composition.
Where To Shoot? Give Yourself An Assignment - The Photowalk! It can be really hard to come up with places to practice and improve your photography, so what about a Photowalk?

Photowalks for me are where I visit a location, then walk around looking for subjects to practice everything I've learnt. Most are local, sometimes I go further afield. I'm not looking to create master-pieces, just opportunities, a time when I can focus purely on shooting, with my Ipod on, enjoying a good walk.
Photo Backup And Archiving - What's Your Strategy? Trust me, one day your hard drive will fail. Now's the time to build in a proper archiving / backup strategy into your workflow so that you can avoid the nightmare of lost images.

Personally I'm not happy until my images are in three places - my pc hard-drive, CD / DVD, and up in the cloud (off site storage), using my Flickr Pro account. This short article explains my work-flow, and maybe you could use it too.
Basic Editing With Photoshop Elements. You've got to have some sort of Photo Editing Software to get the most out of your images, and Elements is one of the best (and cheapest).

In this article i take you through some basic editing concepts that will start you thinking about your work-flow and the wonderful things you can achieve, very easily. This is a long post, but download the source file at the beginning, then work with me as we enhance an image and give it a sepia treatment too.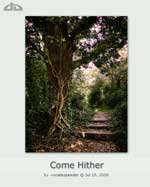 Using Flickr (And deviantArt) To Improve Your Photography. There's dozens of photo-sharing sites out there, and in this article I pose the question about how you can improve your photography by participating.

Flickr is the biggest photo-sharing site, but deviantArt is probably the most creative - they compliment each other, and both are worth considering, especially as basic accounts are free.
What To Shoot? Different Genres, Styles And Ideas. We've come a long way, but sometimes you just run out of ideas for subjects to shoot, and styles to shoot in.

I've pulled together some of my photographs, to maybe give you ideas to try something new, or try a different technique.
Further Reading: Books, Magazines, Websites and Podcasts. I've tried to bring together some of my favourite resources for learning about Photography.

Check out these books, magazines and podcasts, and you'll find some gems.
Technique Challenge 1 - No Sky Landscapes! Break away from the usual landscape viewpoint, and try some photographs with no sky in them!

Our Flickr Forum and photo pool is a great place to share your pics, discuss photography, practice different techniques and take part in the photo assignments and challenges.

Technique Challenge 2 - Fill The Frame! Head on over to our Flickr group and practice getting closer to your subject.

Technique Challenge 3 - Dusk Or Dawn! This photograph challenge is all about taking pictures in the Golden hours, around Dusk and Dawn.
Technique Challenge 4 - A Landscape With Foreground Interest This photograph challenge is all about capturing a traditional landscape style shot, but also making sure you get some nice strong foreground interest.
Achieve More Richness and Saturation Through Layers Blend Modes In Photoshop and Elements. Phew, thats a long title for a simple subject!

By just changing the blend mode of your adjustment layers you'll be amazed by the difference you can make in your photographs, and in this short tutorial I show you how.
The Power Of Local Adjustments: Layer Masks In Photoshop And Elements. Another long title, but this one is definitely worth it!

Local editing is why we use Photoshop or Elements - the ability to change specific parts of a photograph without altering the whole. One of the easiest ways to do this is with Adjustment Layers and their Layer Masks - you won't be able to live without them once you've read this tutorial!
A Simple Black and White Conversion In Photoshop And Elements. I like Black and White Photographs - but I shoot in colour. Photoshop or Elements have a myriad of different ways of converting colour to black and white, so which method to use?

In this short tutorial I'll do it with a simple Hue / Saturation and a Levels Adjustment Layer. (And add a sepia tone at the end too!)
More Advanced Black and White Conversions.

A quick look at some of the other options in Photoshop and Elements - The Black and White adjustment layer, Channel Mixer, etc.
Basic Depth Of Field Tutorial Video. Want those artistic shots where the background is blurred? Or tack-sharp photo's where the whole scene is in focus?

Check out this short video where I explain the basics of how to control your Depth of Field (DoF), for artistic and technical effects.
Creating Basic HDR Images With Photomatix Pro. HDR is simply a technique that allows you to create photographs which retain the details in the highlights and the shadows. This is a boon if like me, you end up taking too many of your landscapes outside of the "Golden Hours" of dusk and dawn.
How To Create HDR Images With Photoshop. If you've already got Photoshop, why not use that to merge your exposures and tone-map them?

I'm using CS3 in this tutorial, but other versions that support HDRi will work too.
Getting Accepted Into iStock. iStock is a royalty free stock photography selling website - the busiest place on the internet for designers, editors, webmasters, etc, to go and buy images to use in the newspapers, magazines, books and websites.

iStock is stock photography - a special style that won't appeal to all, and the quality standard is high, but it is a way of challenging yourself to capture and process in a certain way, and maybe earn some pocket money.
An Introduction To Minolta Manual Focus Film SLRS. As a learning tool for improving your photography and focussing yourself on making better shots, you can't beat an old film SLR.

The problem with digital is that it encourages you to take lots of bad shots - there's no comeback for the ones you just delete - whereas with film, you're paying for every photo you get developed, so you learn to take more care.
Pre-Photoshoot Camera Setting Check. Have you ever come back from a photo-walk to find out that you had the white-ballance set to "incandescent" and all your lovely photo's have a terrible colour cast?

If you use "WIFE" then you'll avoid these problems in the futurew... with a little bit of luck too!
How To create Your Own Photo-Blog For Free. It's one thing to share your photo's on Flickr or deviantART, but the time will come when you want to have your own Blog, but don't worry, it's free, easy, and takes only a few minutes to do.

In this first article we'll look at creating your Blog, choosing a style, writing the first post, adding video and photos from your Flickr account.
How To Change The Colour Of, And Add Gadgets To, Your Blogger / Blogspot Photo Blog. Second part of my tutorial on creating a free photo-blog.

Honestly, you'll be up and running in about twenty minutes, sharing your thoughts with the world!
Andreas Feininger Photo Assignment.

Why not have a go at creating your own beach macro set?
High Shutter Speed To Freeze Time.

Make time stand still with a high shutter speed and plenty of light.
Converting Film Slides To Digital.

Use your digital camera to bring old Film Slides to life.
The Diagonal Method In Composition. (External Link)

Fascinating study that rejects the Rule of Thirds.
Light: The Body Language Of Photography.

It's not what you say, it's how you say it.
RSS + Google Reader = You Own Personalised Photography Magazine.

Use RSS feeds with Google Reader to bringer content straight to your PC or Mac.
Don't Forget The Camera In Your Pocket.

Remember your mobile phone camera is a great tool.


Ten Tips To Make You A Better Photographer NOW! Short and punchy, this post will give you some simple ideas.
The eBay Secret – Canon EF Film Lenses On Canon Digital SLRs.

Short video about the possibility of getting cheaper second hand glass from eBay.
Ten Top Tips To Improve Your Mobile / Cell Phone Photographs.
A quick guide to help you make the most of the camera that's always with you.
How To Create A Free PDF Portfolio With Google Drive.
Share your work with the world.
What would you like to see as part of "The Course"? Leave comments below, and I'll see what I can do, thanks, Rob.