Saturday, September 20, 2008 at 12:35PM
We all love sharing our Photo's on Flickr - but have you ever thought about starting your own photo-blog, similar to this one? Don't worry about the cost - it's free - and it'll take you about twenty minutes to set up and start blogging, and I'll show you exactly what to do.
I've written this tutorial / guide while creating a test blog, - so check out
Minolta Manual SLR's
to see what you'll be able to do in less than an hour. (Don't worry if the colour is different, I'll show you how to do that in
the next tutorial
.)
Don't think you've got to buy hosting and a .com or .co.uk name - it's simply not necessary. If I'd really done a bit of research before I started writing robnunnphoto.com, I'd have probably used Blogger.
The reason? Blogger is run by Google - you've got about 1 gb of storage for photos, but if you link to your photos from Flickr, they won't take up any space - plus there's no bandwidth issues. No matter how busy your Blog gets, they'll be no charges and your Blog will stay up.
Need further convincing? Check out the
Strobists Blog
. This is one of the busiest Photography sites on the internet, and costs the owner nothing to host and run. Amazing!
OK! Ready to start? Lets head on over to
blogger.com!
We've got two options here, if you've already got a Google account just log in at the top, if not, click the "create your own blog now" link, and you'll see this:
Just go ahead and create a Google account, you'll get access to Gmail and lots of other cool stuff.
Once you've got your account, you should get to this screen:
Click on the big blue button!
We've now got to name our Blog and choose our web address (URL):
Take a couple of minutes to think about your websites name and URL. You can change the name later, but you'll be stuck with the URL. Try to choose something that would be easy to remember and easy to type.
When you've decided, click the "check availability" button to see if someone else hasn't nabbed it!
When you're ready, hit "continue".
Now we have to choose the style of our Blog. The beauty of the blog way of doing things is that you can change the style of your blog whenever you want, but I'd like you to choose "minima stretch":
We can change the colours at a later stage, but Minima Stretch is a good basis because it can expand to fit the size of our Photographs - whereas the fixed width designs don't display images over 500 pixels wide very well.
Once you've chosen, click continue, and....
Wow! That was quick! I remember the days before CMS's (Content Management Systems - the software that runs blogs) and it took weeks to design a website, yet we've done ours in a few minutes. Yes, really, we're almost ready to start writing posts!
First up though, we're going to change a few settings, so click on the "settings" tab, and write a short description. This will appear below the main title. Remember EVERYTHING can be changed later if you change your mind.
A little habit we've got to get into is remembering to save the settings before we move on, but the save button is hidden further down the screen, you've got to scroll to find it:
Saved? Great. Now click on the "Formatting" tab and change the timezone to your local one:
The "Comments" tab is next, and we need to change a couple of settings, first "who can comment", change it to "anyone":
Scroll down a bit, and turn "Comment Moderation To Always" and put in the email address you want notifications to be sent to:
We turn this option on because of the amount of spam, or unwanted comments you might get. We want to see every comment before it gets posted so we can authorise it. Don't worry, you won't be inundated with email, unless you Blog becomes a massive hit over-night!.
Remember to scroll down and "save".
Time To Blog!
Click on the "Posting" tab. This will be our first post, so click inside the title box and write something appropriate. Next we're going to add a picture before our text, so click on the little picture icon. Choose a smallish image from your hard-drive, set the alignment to the left, and insert into your post:
Now we can write some text, just like a word-processor. In this example I want to insert a hyperlink into the text so people can get come back to this site if they want to. To do this, just highlight the text you want to become a link, then click the little button with the 8 on its side: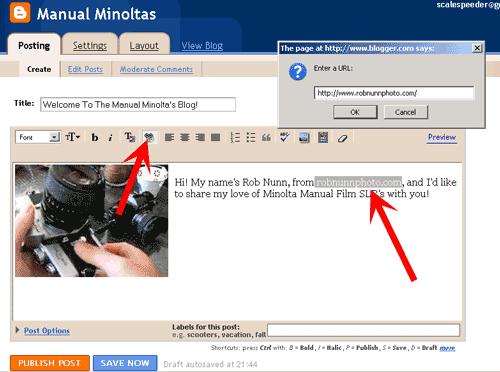 Finish off your text, then move your mouse near to the bottom of the text box and the labels box will appear. Labels help to describe your posts, so type in something related to the category you may like the post to be related to. Once you're done, click the "Publish" button:
Now take a look at your new Blog, click on the "View Blog" link. Isn't that cool! Ready for more?
Now, you may want to insert videos into your Blog that you've uploaded to YouTube, Yahoo, Vimeo, etc - and we do it a bit differently.
Click back on "create", and put it the tile of your video post, but then click on the "Edit HTML" tab on the right side of the screen. Now get on over to your youtube account and copy the "embed" code, then paste it into the new post:
Add your labels and publish.
Oh, this was meant to be a photo-blog, right? Lets add a few photo's from our Flickr account. Start a new post, put the title in, and a few words about your pictures, and then click the "edit html" tab:
We've now got to get the code from our Flickr account, which is easy enough to do. Just find the photo you want to insert first, then click the "all sizes" button:
Now find the size you want - medium is pretty good for most Blogs - and click on that link near the top of the photo. When it appears, scroll down and highlight, then copy all the text in the
first
(not the second) box:
Now just head on back to your blog and post it in under the text you just wrote:
OK, there's an extra piece of text before we put any more text or pictures in, you can see it next to the bottom arrow in the above picture. This makes sure your photos and text align properly, one after the other, so after the Flickr HTML make sure you add it,
<div style="clear:both;"></div>
That'll keep everything nice and neat. Go back to Flickr and grab some more html code and add a few more photo's remembering to add the <div style="clear:both;"></div>
Once you've added a few more photos, add your labels then publish the page. Click on the "view site" button, and you should be well pleased!
Here's what mine looked like after about 10 minutes work:
If you're excited as I am about Blogging and sharing, you'll be amazed at how easy it was to create our own blog, just book-mark your blogs page, then when you want to make a post, go to it and click "new post" (you may have to log-in first).
What's next? Keep writing / posting as often as you can, and when you're ready,
read my next tutorial on changing your Blogs colours and adding gadgets.
It's a good idea to get a few posts up before publicising it - no-one wants to read an empty Blog - but once you have, tell your friends, add your Blogs URL to your Flickr descriptions, Forum posts and signature, etc, and email me!
Cheers, Rob.
tagged
the course,
tutorials
in
the course,
tutorials