Thursday, September 11, 2008 at 2:29PM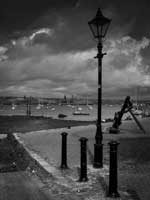 I like using HDR to create dynamic images, but one subject I haven't covered in the blog is how to do it with Photoshop cs3!
It's easy to dismiss doing HDR in Photoshop - Photomatix is the brand leader, and I have to admit that Adobe haven't exactly made it easy and obvious to do, but it can produce very nice results....
Getting Started - Taking The Photographs
If you're going to shoot HDR, it's important to understand what HDR (or HDRi) images are, why they're useful, and how to do it.
The problem with digital cameras is that they can't capture all of the detail in a scene. Detail can be lost in the shadows (where its too dark) and in the high-lights (where it's too bright). HDR, or High Dynamic Range Images are a technique where you combine images of the same scene, taken at different exposures, that each separately record different parts of that detail.
So if you think a scene is suitable for HDR, first you need to think about the stability of your camera. Use a tripod or some sort of support, or a high shutter speed and try to stand very still.
Next up is how you're going to capture the different detail. Check your camera's manual and see if it can do exposure-bracketing. If it does, go to aperture priority mode, turn exposure bracketing on, and when you take a picture the camera will also take some under and over-exposed shots. It doesn't matter how many - three is usually the minimum.
If you haven't got bracketing you're going to have to go to manual mode, get a correct exposure and then vary your shutter speed to capture the different details.
jpg or RAW? Jpg is a lot faster, the hdrs are a lot smaller, but if your version of RAW is supported, that'll give you better results. I shoot in the highest quality .jpg, 'cos my camera doesn't shoot RAW.
Once you're done, head on home, copy your photo's to your hard drive and fire up Photoshop. I'm using CS3 in this tutorial.
Photoshop
First up, we need to create the HDR. Click File, Automate, Merge to HDR:
Then you'll see this dialogue box:
Click the browse button to find your photos, select them (ctrl click each one to do them all at the same time), make sure the "Attempt to Automatically Align Images" box is ticked, then click OK.
This will appear next:
Make sure "response curve" is automatic, and "bit depth" is 32 (or the max).
After a bit our HDR 32 bit image will appear:
Now there isn't that much we can do with this, and it probably doesn't look too great. This is because our computer monitors can't display a HDR image - the screen just isn't light or dark enough - so we've got to convert it to 8 or 16 bits so we see it properly and edit it.
So what we need to do now is click Image, Mode, then 8 or 16 bits. 16 bits is better, you've got more colour depth, but not all your filters will work. My advice is to work in 16 bits and change to 8 bits if a filter needs it.
You will have to change the mode to 8 bits to save as a.jpg - don't forget!
We'll now get the tone-mapping dialogue box up. It looks a bit complicated, but don't worry, I'll show you what to do:
The options in the dialogue box control how Photoshop converts our HDR to a normal 16 or 8 bit image, and it has a few different ways of doing it. Make sure the preview box is ticked and try the different methods, but don't click OK yet.
We want to play with the last option, Local Adaption, so select that method, and make sure the "Tone Curve and Histogram" are visible by clicking the little arrows.
Your photo probably looks dreadful at this point - your "tone curve" will be a straight line, but we're going to alter the tone curve to make it better.
If you've worked with curves adjustments layers already, you'll know that this curve controls the brightness of different tones across the spectrum of the image - and we can adjust the local contrast by adjusting the shape of the curve.
Confused? Don't worry. Just click in the middle of the "curve" and drag the line down a bit. Now do the same a bit further up the curve, then a bit further down. You can play around with these points, and create a few more, until you're happy with the image. Remember this is not the final version - we're still going to be doing our normal Photoshop editing, so don't get too obsessed, we just want to bring out the detail in the highlights (sky) and the shadows (ground).
If you like it, click OK, if not click Reset and try again, or choose one of the other methods.
If you've got a slow PC like mine, go and make a cup of tea while it renders.
Now we should have an 8 or 16 bit image we can work on as normal:
Now's probably a good time to save it as a .psd (that way we won't lose any detail), and then you can start you normal editing process.
This is what I went for with this image:
When you're finished, remember to make sure you're in 8 bit mode if you want to save as a jpeg.
Cheers, Rob.
tagged
hdr,
photoshop cs3,
the course,
tutorials
in
the course,
tutorials