Wednesday, July 2, 2008 at 9:48AM
This article has been updated. Please click here for the updated post and video.
Er.. OK.. here's a little video explaining the basics of controlling depth of field (what's in focus) with different apertures. The quality isn't brilliant, but it may give you a start.....


In the vid I hold up a piece of paper showing different aperture sizes, but it isn't very clear, so here's a version you can read!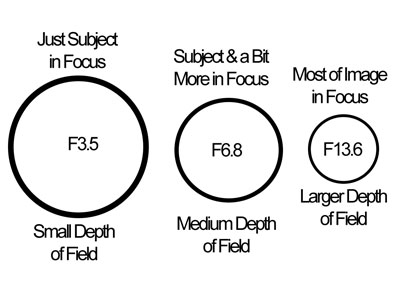 The easiest way to control the Aperture in your camera is to use one of the AE or Automatic Exposure Modes - Program, or Aperture Priority. You use these modes because your camera will automatically make sure the shot looks good by changing the shutter speed as you change the aperture. When you get a bit more confident try out Full Manual Mode, with that setting you'll choose the Aperture and the Shutter Speed - useful when your camera's Automatic Exposure settings can't handle a particular scene.

So, to get a small depth of field (just your subject in focus, eg portrait, flowers) use a large Aperture (small F number). To get a large DOF (everything in focus, eg landscapes) use a small Aperture (large F Number).

Also remember that at small apertures (larger f numbers) your shutter speed will be slower, so increased blur with camera shake, or your subject moving, could be evident.

Here's a photo taken with a small aperture, F6.8, to maximise the Depth of Field to keep most of the shot in focus:



Here's a shot taken with a larger aperture, F4, (and close to the subject) to minimise the DoF and make the background blurred:



Here's a shot taken at a very large aperture, F1.4, with a Razor-Thin DOF:



Hope this helps!

Cheers, Rob
tagged
technique,
the course,
tutorials
in
the course,
tutorials