Geotagging
Geotagging - adding latitude / longitude details to your photographs so that you can look at them on a map, on Google Earth, Maps, Flickr, etc. With some units and software you can even create Google Earth track files, so you can share you photographs and the path you walked while taking them. Brilliant.

Most cameras don't come with GPS receivers built in, so you'll need an extra piece of hardware (that you carry around), and usually some associated software to "merge" the GPS data with your photos.

I've tested and used a few different units, so I thought I'd gather them together onto one easily accessible page, so here they are!
Qstarz BT-Q1000XT Travel Recorder.
Another great photo geo-tagger from Qstarz.
Navin Minihomer GPS Position Finder Review.

A great little device that's small enough to clip to your key-chain, will point you in the right direction home, and with extra software act as a Geotagger.
Columbus V-900 GPS Photo Geotagger Video Review.

Mac and PC compatible, with a huge storage capacity, Bluetooth and a built in voice-recorder - what a device!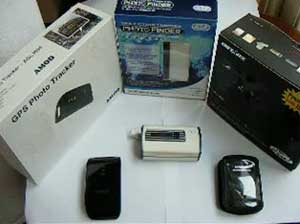 Comparison of the Amod AGL3080, The ATP Picture Tracker, and the Qstarz Platinum.

These three units are great examples of the different types of GPS Taggers / Trackers you can get - the Amod is a driver-less device, working on both Windows and Macs (Linux too with the right software), the ATP doesn't need a PC at all, and the Qstarz that has the most features, but you have to use the dedicated Windows software.
Review of the Amod AGL3080 GPS Tracker and Photo Tagger. The Amod acts as a USB mass storage device, so it works on Windows and Mac.

You do need to use the supplied software to combine the captured GPS data and your photographs, but it's easy and fast.
Review of the Qstarz BT-Q1000P Platinum Photo Tagger. This little gadget can track your pictures, but it also can act as a GPS reciever for a Smart Phone / Pocket PC, turning it into a GPS Sat Nav with the right software.

The Qstarz can do the most things with your photos - not only does it tag your images, you can create Google Earth .kmz files - which are a record of your photos and the path you walked to take them. These .kmz files are then viewed in 3d, you can zoom around Google Earth and your pictures are there too!
ATP GPS Photofinder Review (On one of my other sites, will open in new Window).

The ATP offers a unique approach - it includes a GPS receiver, but also a SD card slot. Once you've taken your shots, put your memory card into the slot, and the unit automatically tags them, without the need for a PC!